Il parco Nazionale delle Cinque Terre
At the eastern end of the Riviera you can find the Cinque Terre, five tiny villages hidden in little coves or on sheer cliffs, in an unique landscape.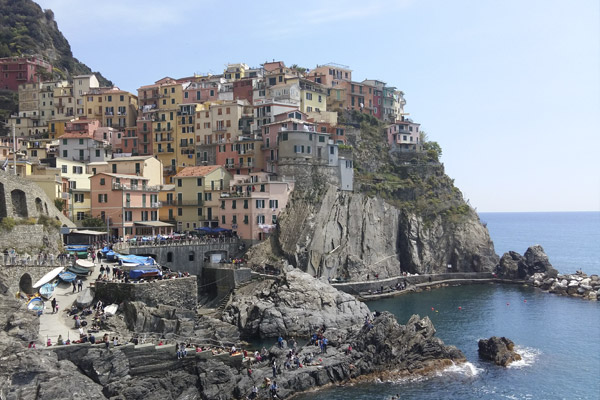 A kaleidoscope of colours and shapes: vineyards bordered by dry stone walls, the result of a centenarian work, sloping down the harsh cliffs and mixing with the Mediterranean scrub and the olive trees, surrounded by the woods on the top of the mountains.
The Cinque Terre are the heart of the national park, a protected area of about 15,000 hectares.
Near the five villages, Monterosso, Vernazza, Corniglia, Manarola e Riomaggiore, you can find Levanto, the western gate to this magical corner of the Riviera Ligure.
The things to do and the exciting places to see in the Cinque Terre scenery are various. Here you can find a short list of suggestions:
Manarola and its Nativity Scene
Eugenio Montale's Monterosso
Riomaggiore, Vernazza and Corniglia
Trekking routes on the Alta Via of the Park
La Via dell'Amore (the road of love)
The Sciacchetrà wine and the salted anchovies in Monterosso