The Golfo dei Poeti (Gulf of the Poets): routes
A natural creek bordered by two promontories where the sun and the sea inspired poets and famous writers such as D.H. Lawrence who wrote in his letters, in 1913, how fascinated he was by the beauty of the cove, hidden by olive trees degrading to the sea.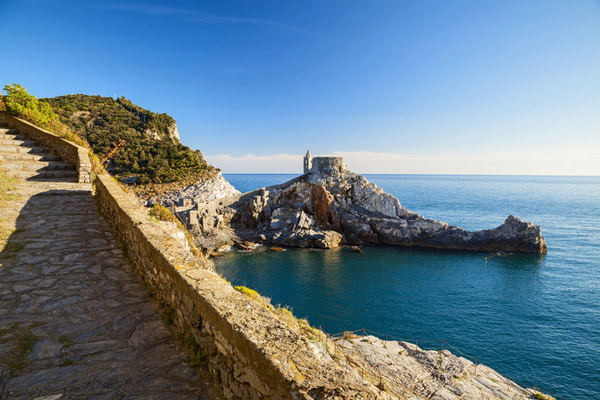 The Golfo dei Poeti is like an amphitheatre: Portovenere and its tiny islands and the area of Tramonti leading to the Cinque Terre are to the west. Lerici, the wonderful little coves of the rocky promontory of Caprione bordering the Valle del Magra and Lunigiana are to the east.
The Ligurian coast between Lerici and Portovenere is scattered with small villages high above the sea, with towers and medieval castles and small walls bordering fields, in a succession of sandy coves, rocks and green hills. Tellaro, San Terenzo, Marola, Cadimare, Fezzano, Le Grazie, Portovenere, Isola Palmaria, Tino and Tinetto islands: destinations non to be missed if you want to see a landscape that is unique in the world.
There are various occasions to do and see something exciting in the Golfo dei Poeti and its surroundings. Here you can find a short list of routes and suggestions:
Portovenere and Lord Byron
The church of San Pietro in Portovenere
The trekking routes on the Alta Via del Golfo
Lunigiana and its surroundings